Lately I've been wanting to start developing bespoke synth. To begin with, I've made a development flake for it (flake code is here). From what I can tell, everything on the flake side of things is working properly. However, the builds produced by the environment have a small problem, everything is rendered a few pixels above where it is supposed to be rendered.
Normal draw: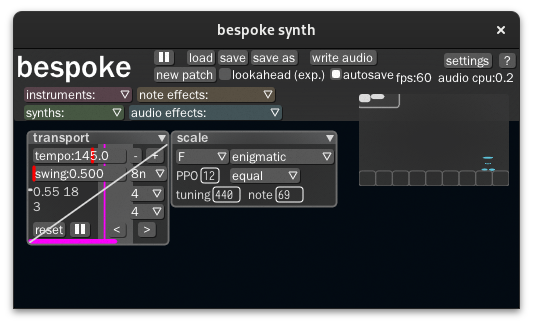 Offset draw: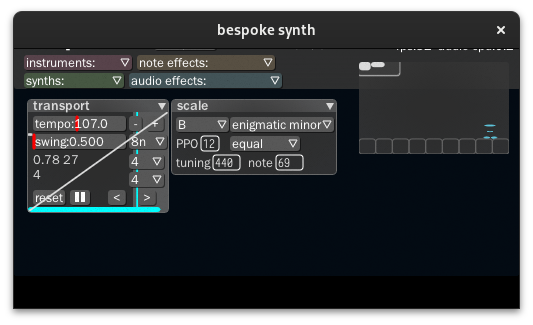 I copied the inputs for the devshell from the bespokesynth package in nixpkgs, so I don't think it's a dependency problem. To build it, I'm just running the build command, as defined in the flake, which was initially taken from the build section of the readme. Does anyone know how I might fix this? I would love to submit this flake as a PR to bespoke so other people can benefit from it.
Beyond the immediate problem, I have a few questions regarding the usefulness of my flake. Would someone on Windows be able to use the flake to build and develop for Windows? Would it be hard to make it possible to cross-compile the application for Windows or MacOS? How can I imporove the scripts I'm making with writeScriptBin? (Are they useful? Is there a better way to structure them? Can repo-path be removed cleanly?) What else can I do to make my flake better or extend it? I want to make it as useful as possible for anyone who might want to develop bespoke.
One other thing I'd like to ask that relates to NixOS in general is, do I have to make a flake for everything I want to develop? I see that there's the nix develop command, but that doesn't use the shell I like (zsh), so I tend to stay away from it. And unfortunately, nix-shell -p doesn't seem to work for setting up a development environment.
Thank you for reading!
cc: @tobiasBora