After running Windows for years I decided I wanted to try out NixOS. I don't want to lose Windows so I created an extra partition and installed NixOS on it. But after trying it out for a few days I keep running into issues with the boot partition of 100 MB becoming full. After running only 2 or 3 generations the partition is usually close to or at 100%. In the latter case I can't build a new generation. With only my latest generation its at 60%. That is after garbage collecting.
This is what my partition table looks like according to GParted.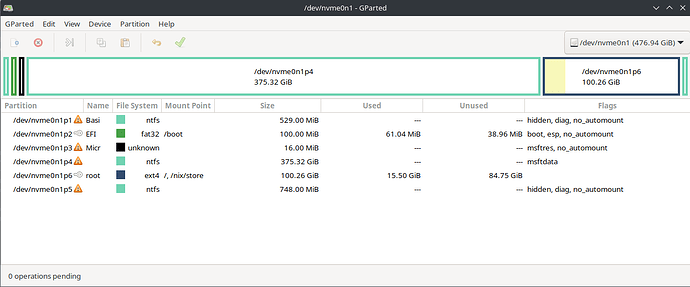 How can I properly clean it up or increase the size of the boot partition? With my limited knowledge I found 2 solutions for increasing the boot partition:
Move the boot partition to a new bigger partition. I've never done this, but with a clear guide I'm sure I'll be able to do it.
Reinstall Windows and NixOS. A bit drastic maybe, but I don't mind starting fresh. To me my current table partition looks like a mess and with NixOS in mind I can setup the partitions correctly from the start. In that case is there someone who can give a recommended partition table setup and some high level steps?