Hey, I have been trying to set up multiple NixOS systems and I've encountered the same issue on all 4 systems, 1 System is my desktop another 2 are my laptops and the last one is a virtual machine, my issue is that my bspwmrc doesnt execute whenever i login to bspwm on X, sxhkdrc does execute (sxhkd is the hotkey daemon for bspwm). executing bspwmrc manually works fine, sxhkdrc and bspwmrc both have the same permissions and the executable permission so i doubt that this problem is caused by the file perms.
ive had this issue happen to me on all 4 of my systems with different configuration.nix file, and on different NixOS versions older/newer…
my bspwmrc and sxhkdrc files are in the right location, adding the option windowManager.bspwm.configFile = "/home/kranzes/.config/bspwm/bspwmrc"; (under my services.xserver section of course)
does not do anything, ive tried removing and adding it and i got the same results with and without it.
im quite lost, ive been trying to figure this issue out for over 15 hours and i couldn't figure it out, as you can tell.
these are my config files (configuration.nix , bspwmrc , sxhkdrc"
i seem to be the only one that has experienced this issue, so it might be user-error but i really cant find what i did wrong, Thanks.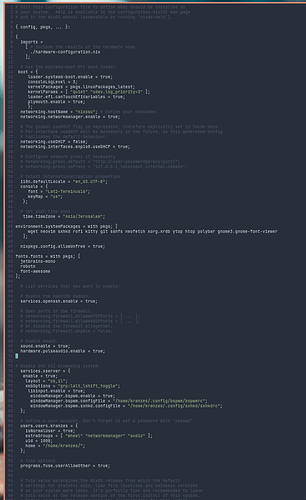 (sorry for the small pictures, i wasnt sure how i could send the config files here)