I am trying to install the latest version of parallel tools on my nixos machine.
When I search prl-tools in the nixos package search there are a bunch of prl-tools that have different names but look to point towards the same source.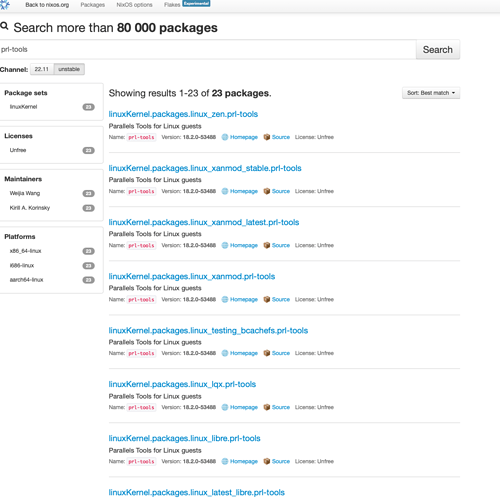 My first question is how do I know what is the correct parallel tools to install - I am just looking for the normal one supplied by parallels.
Secondly - prl-tools appears to have a different install mechanism to environment.systemPackages (where I can control the source pkg channel). It installs like this:
#hardware-configuration.nix

hardware.parallels.enable = true

My second question is how can I control the channel that this is being installed from - I want package to come from the unstable channel.
Lastly I will note I am actually doing a fresh install using the manual method via packer so you can see my nix files here.
https://github.com/jamesla/nixos-bootstrapper
and my installer here:
nixos-bootstrapper/nixos.pkr.hcl at a8b6f7bab29d4494c30edbaf1e1a2ea514e5dcab · jamesla/nixos-bootstrapper · GitHub (just incase I have to add another channel).