Hi there,
I am trying out NixOS in VirtualBox, and I am seriously considering moving to it as my main distro. As part of my testing, I am trying to get Plymouth to show the password prompt for my encrypted root partition.
I have been following Plymouth does not show password prompt with encrypted root · Issue #26722 · NixOS/nixpkgs · GitHub.
My current configuration has a /boot that is unencrypted, and / that is luks encrypted. At first I was surprised that NixOS was not even asking for a password to boot. For that I had to comment the line
boot.initrd.luks.devices."luks-xxx".keyfile = "/crypto_keyfile.bin" .
I configured NixOS 22.11 with
boot.initrd.systemd.enable = true;
boot.plymouth.enable = true;
boot.plymouth.theme = "breeze";
environment.systemPackages = with pkgs; [
  plymouth
  breeze-plymouth
];

I get a line Show Plymouth Boot Screen, and then the text prompt as below: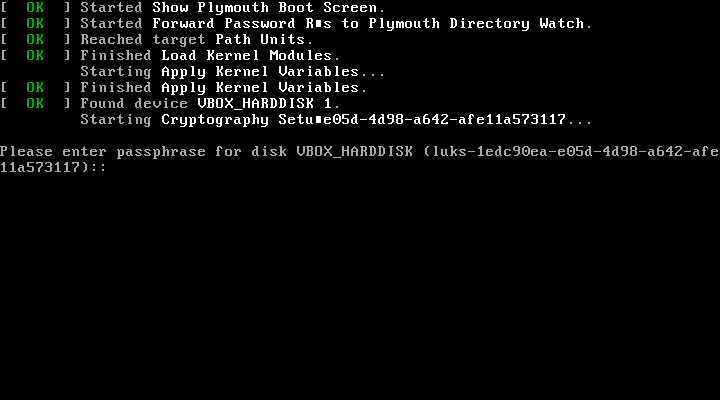 I get these lines in the logs about plymouth:
plymouth.log
It seems that other people were able to get a graphical password prompt from plymouth, such as @naufik, @Majiir, and @nomeata.
What am I doing differently and how can I get the graphical password prompt?