Good day. I'm on NixOS 23.05 and found a strange issue where KDE (QT?) based apps don't display many nerd-font glyphs properly, e.g. those suggested in the starship manual. It's only in KDE/QT apps, and only on NixOS (KDE Neon / Kubuntu work fine)
The font I use is "MesloLGSDS Newd Front Mono"
Chrome displays them just fine as you can se below (at least I do)
💨🕙💦🦬🍞✨🦕🐋🔮🇬️🌱

GTK-based app have no issues as well. Here is tilix terminal for example:


But KDE/QT based stuff struggles. Here is how I see it in the console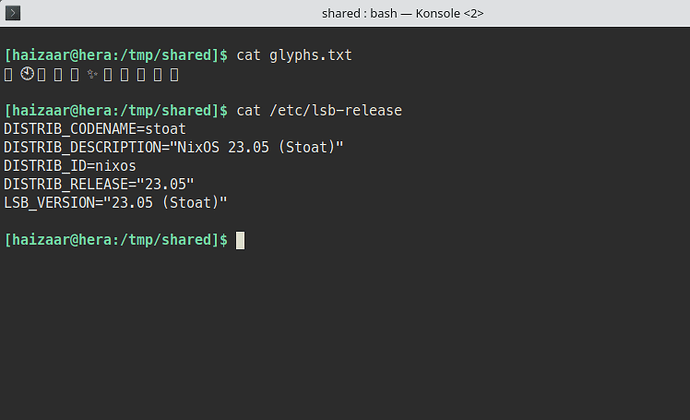 I looks like NixOS-specific issues because it all works just find in KDE-neon running in Virtualbox (KDE 5.27 on Wayland)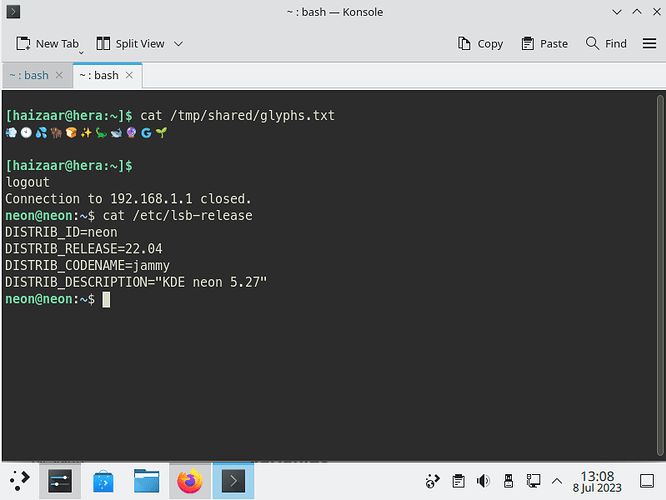 And even on my old laptop with Kubuntu 20.04 LTS it works just fine as well.
Not sure if it's a bug or configuration problem?
All I do in confugration.nix is
services.xserver.displayManager.defaultSession = "plasmawayland";
services.xserver.desktopManager.plasma5.enable = true;

Same issue happens with kate as well as any QT app (Dolphin, klipper, etc.)