I'm installing NixOS for the first time, and I'm running into issues. This is on a System76 Darter Pro laptop.
I put the graphical installation ISO image for NixOS 22.05.1818.26fe7618c7e (with GNOME) on a USB stick, then booted from the image into the installer.
The installer couldn't connect to the internet, so I ran nmtui to connect to my local WiFi, restarted the installer, then walked through it, having it replace my main partition and selecting GNOME as my desktop environment.
I rebooted, and was able to select NixOS at boot time: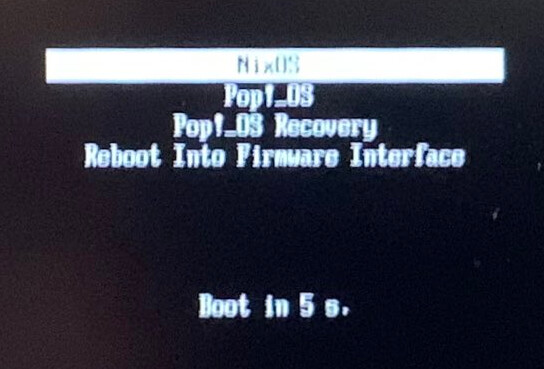 It dropped me briefly at a tty prompt
then left me at tty7, which was just a blinking underscore (no prompt, no response to text entry).
Switching back to tty1 allowed me to login with the user I created at install time.
gnome-shell was in my path
but gnome-session is not, though it does appear in the local nix store
I'm sure, given time and a bit of research, I could manually alter /etc/nixos/configuration.nix to enable GNOME at startup and get the ball rolling, but I'm even more sure that that's what the installer was supposed to do.
So before I go chasing post-installation fixes, I wanted to check if:
yes this is something the installer should have set up for me
was there something I should have done during the installation process differently to get it to work
should I report this as a bug somewhere