Normally in Firefox on Windows and other Linux distros there is a "narrate" button that will read articles aloud when you put a page in reader mode.
However on NixOS that button seems to be missing: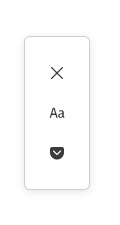 I've tried installing the espeak and speechd packages as I saw in threads with similar problems for other distros but that did not resolve it. I also verified the usual suspects in about:config.
Does anyone have narrator working in Firefox on NixOS?