My laptop has the following VGA controller:
01:00.0 VGA compatible controller: NVIDIA Corporation GK107GLM [Quadro K1000M] (rev a1)


After upgrading my NixOs to 21.05, I found my NixOs very lazy and slow in detecting my second monitor. So I decided to install the NVidia driver:
  services.xserver.videoDrivers = [ "nvidia" ];

After that, that problem solved and now, I can plugin in my second monitor instantly and it will affect under the second.
But now, I have another problem. The Nvidia driver cannot detect my second monitor's maximum resolution.
So what should I do? Does anyone have an idea to fix this problem?
My second monitor is LG 29UM68-P 29" 21:9 UltraWide which with a 2560 x 1080 resolution. But the Nvidia driver detects that as a 1920x1080 screen.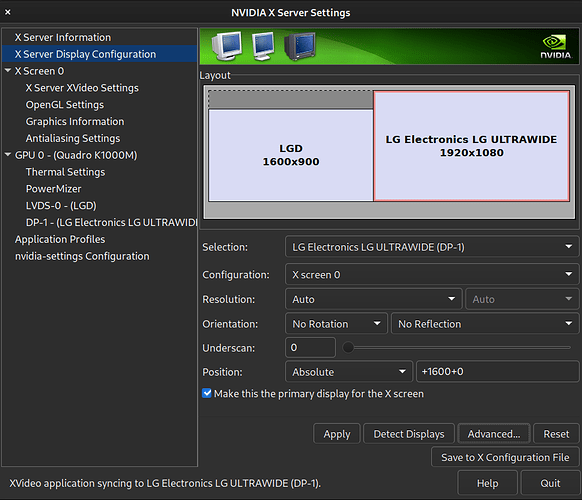 When I click on the resolution menu list, the maximum resolution is not 2560x1080: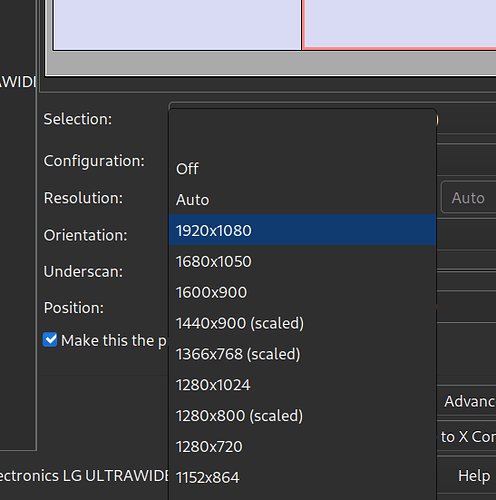 Here is the output of xrandr -q:
Screen 0: minimum 8 x 8, current 3520 x 1080, maximum 16384 x 16384
VGA-0 disconnected (normal left inverted right x axis y axis)
LVDS-0 connected 1600x900+0+180 (normal left inverted right x axis y axis) 345mm x 194mm
   1600x900      60.03*+  40.02  
DP-0 disconnected (normal left inverted right x axis y axis)
DP-1 connected primary 1920x1080+1600+0 (normal left inverted right x axis y axis) 798mm x 334mm
   1920x1080     60.00*+  59.94    50.00    29.97    60.05    60.00    50.04  
   1680x1050     59.95  
   1600x900      60.00  
   1280x1024     75.02    60.02  
   1280x720      60.00    59.94    50.00  
   1152x864      75.00  
   1024x768      75.03    60.00  
   800x600       75.00    60.32  
   720x576       50.00  
   720x480       59.94  
   640x480       75.00    59.94    59.93  
DP-2 disconnected (normal left inverted right x axis y axis)
DP-3 disconnected (normal left inverted right x axis y axis)
DP-4 disconnected (normal left inverted right x axis y axis)
DP-5 disconnected (normal left inverted right x axis y axis)
DP-6 disconnected (normal left inverted right x axis y axis)