Hello!
I'm a bit of a nixos noob, so please bear with me. I've recently installed nixos on an ASUS X570-PLUS with a Radeon RX 7900 XT gpu. The bug I'm experiencing is that everything the GPU renders has cascading visual bug where everything on the screen leaves behind an artifact of itself. Strangely enough screenshots don't capture it, so i've taken a picture: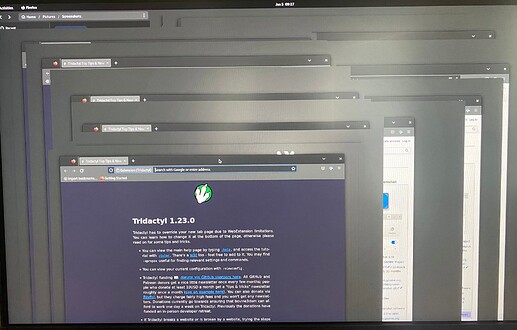 I've followed the instructions in then amdgpu wiki and added these lines to my configuration.nix:
boot.initrd.kernelModules = [ "amdgpu" ];
...
service.xserver.videoDrivers = [ "amdgpu" ];

Along side that I'm using the latest kernel packages:
boot.kernelPackages = pkgs.linuxPackagaes_latest;

Without this change the gpu is not detected.
Does anyone know why this bug might be happening? I can provide more detail if needed. Thanks in advance!