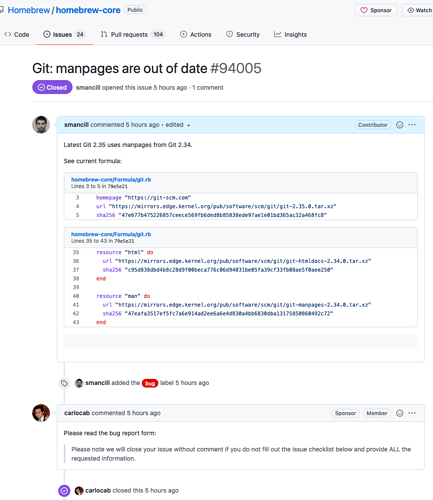 There cannot be a more clear report than that, a one line describing the issue in a clear and concise way, and even pointing the lines with the problem. It would take 10 seconds to confirm that bug.
But no, not following the dumb, forced template that would have 5 times more noise, useless data and explanations, immediately results in closing a perfectly good bug report, treating contributors like idiots that cannot open a good issue. Zero flexibility. It takes more time to get that text to paste it than read the single line explaining the problem.
I like that the nixpkgs repo suggests an issue template but many of us can figure out when some of those points can be excluded because they would not contribute to a clear report, and we are not shut down for that.
I am done with those maintainers and I am happy having found Nix for almost all of my packages. Unfortunately I cannot get rid of it completely from my system just yet. (Somebody please add pandoc-crossref to the binary cache. I would if I knew how to do it.)