NixOS on my Lenovo Yoga C930 laptop will just freeze suddenly from time to time, with no warning, and totally at random, i.e. not while I'm doing anything necessarily compute-intensive, and not while I'm running a particular program. When it fails, everything locks up, and then I get several screenfulls of errors. I can't screenshot them, and they're not in journalctl, but I did take a picture of them: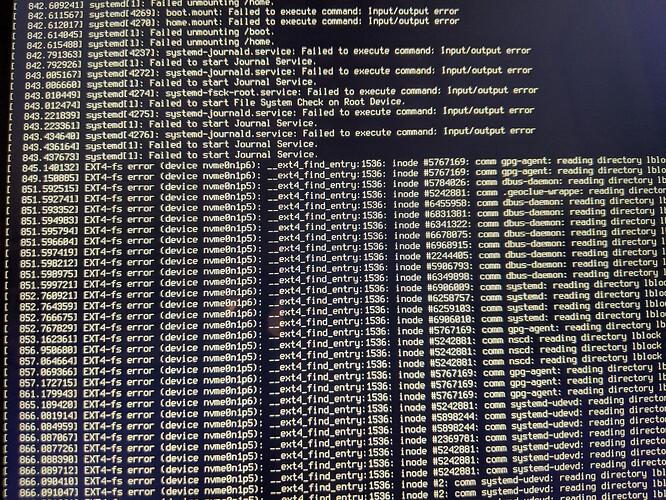 I can't really make sense of them.
In fact, my system has hard-frozen twice, while I've been typing this post.
Here's what I think the problem is not:
My hard drive, since I just replaced it with a new one a few month ago.
The filesystem, since I just formatted the partition, and reinstalled NixOS. I also just ran fsck on everything, and it came up clean.
Overheating, since this will happen on a fresh boot, as well, when I'm barely running anything
Overloading of RAM, since I have 12G of RAM and have not been running very many things.
My configuration.nix is up here on GitHub.
Any ideas what this could be?
Edit: a few things more I could say about this issue include:
When my system freezes, it seems to do so slowly, like over the course of thirty seconds. First, clicking on a browser tab, or typing a command will just stop working, but the rest of the system will seem to continue working.
After I hard-reset it, it then freezes again within a few minutes of rebooting it. It usually freezes one more time, too, on the next reboot. So basically, every time it freezes, it actually freezes three times.