Launching the sponsorship tracks for NixCon 2023. For those that aren't blessed (yet!) with the official NixCon mug, NixCon is the globe's largest and most anticipated gathering for the Nix community. Every year, NixCon brings together developers, contributors, enthusiasts, and organizations from all corners of the world to learn, share knowledge, and foster innovation in the Nix ecosystem.
Conference & Hackathon Dates - September 8 to 10
Location - Germany
Sponsorship Contact - Feel free to reach out here, matrix (@ronef:matrix.org) or email orgateam@nixcon.org
Official Site - 2023.nixcon.org
Last Year's NixCon Recap
Below are the sponsorship tracks. There's something for every organization, whether you're an enterprise running Nix or a seasoned industry leader. Each sponsorship tier comes with a distinct set of benefits and visibility opportunities, all designed to connect your brand with our diverse and talented community.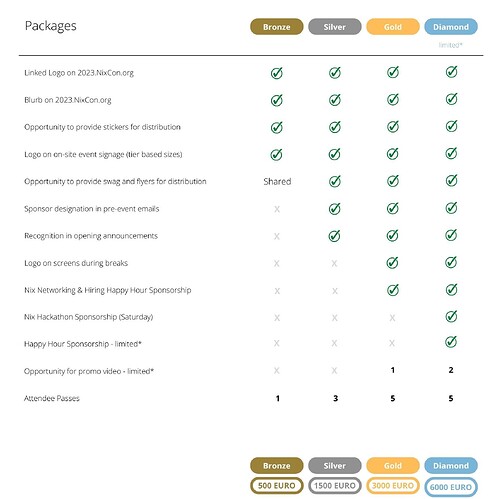 By sponsoring NixCon 2023, you're not just promoting your brand - you're actively supporting a thriving open-source community and paving the way for future innovations in Nix.
Sponsorship slots are limited and expected to fill up fast. We encourage interested organizations and individuals to reach out early to secure their spots.