TL;DR - None of this would be here without all of the Nix contributors. Below is only a few of the amazing Nix moments of 2022. If you Nix, keep Nixing. If not, start Nixing. Comment more great Nix that happened last year
This is also a followup to our discourse post here Nix 2022, What Was Great? - Development - NixOS Discourse
Nix in the Numbers & Community Survey
We launched the first ever community survey and received over 2k responses, giving us the first cross community glimpse into how/why/where Nix is happening. You can check out the full recap here. 2022 Nix Survey Results - Announcements - NixOS Discourse
Nixpkgs crossed 200,000 Pull requests/Issues on GitHub
Over 80k people visited NixOS.org when we launched the last release
Nixpkgs is the 7th open-source project on GitHub by contributors <3
Nixpkgs is the largest and freshest repository
Even the older and unmaintained 22.05 release has more fresh packages than the current 2023 AUR. Graphs - Repology
Nix star count keeps doubling

If there are more interesting metrics, ping them in the comments and we will add it in!
Teams
The community established new teams in critical areas such as:
Current teams kept delivering and supporting the community across all key pillars of the community, keeping Nix alive and well. Nix Community (nixos.org)
We've also kicked off a part of a first step in our plans to Empower Teams by beginning to test out a new team structure in collaboration with the NixOS Foundation Board to ensure critical areas in the community are always up & running by receiving more support and having more accountability. Empowering Nix Teams - Alpha Phase - Announcements - NixOS Discourse
NixOS Foundation & Board
The foundation expanded in 2022 with the key goal of supporting the community with more resources and dedicated time. Expanding the NixOS Foundation - Development / NixOS Foundation - NixOS Discourse
Key areas of focus (more details in a separate post) -
Releasing a grant/funding program to support both small and large Nix community efforts. From getting food for a Nix meetup to large hacking sprints and NixCon! (more on this very soon!)
Nix Administration -

Securing our trademark
Building out a budget plan and making it transparent
Creating more structured sponsorship/donation formats, including getting us charitable status

Supporting the community and teams
Making the infrastructure more resilient
NixOS Foundation Board Panel - NixCon 2022 (Recording)
2022 saw the second edition of Summer of Nix take flight, with dozens of contributors, organizers, mentors and mentees collaborating to learn and package projects with Nix for the NGI project. Shoutout to @mat (Matthias), @bjth (Bryan), and everyone who helped make this happen!
We had 21 participants, 5 team coordinators, 6 project leads, 6 tech whizzes. 38 in total!
Nix Content & Blogs
Seems like we can't go a week without some great Nix content landing in our inbox. A few highlights:
It is hard to list all the great content of 2022, but please help us mention it in the comments!
Nix User Group Directory
A new website logging the Nix User Groups, meetups, and events that continue to pop up in various locales. If you run a Nix meetup, please add it there so your future friends can find it!
https://nix.ug/
(The NixOS Foundation grant/funding program will also be supporting these events!)
Finally, we got together and sipped some Club-Mate. For the first time in 3 years we all got together in Paris for three days of presentations, discussions and good times. With over 200 in person and hundreds live online we kicked off talks showcasing the staggering breadth of the community: people successfully using Nix for working on particle accelerators, computational chemistry, satellites, and even resuscitating Flash for a legacy enterprise migration. Check out the presentations and recordings!
One NixCon equals 16 hours of content, 200 iconic mugs and ?? numbers of beers (purchased largely by @matthewcroughan )
Huge thanks to all of the organizers and everyone else that made NixCon possible!
Zimbatm (@zimbatm) / Matthias (@mat ) / Ron (@ron) / Ryan (@RaitoBezarius ) / Jackline (@maj ) / Alexandra (@ciancimino ) / Rok (@garbas ) / Nick (@addict3d ) / Bryan @bjth / @ctem
(Two!) Ocean sprints & a Nix Camp
What's better than mixing Nix hacking in a week long sprint with warm weather and good food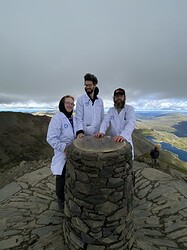 Nix at it's highest? (Credits to NixCamp

)
More Highlights
I am sure we missed a bunch so please do add more in the thread

We had two big releases this year and established a 6 week release schedule
Silvan launched The Nix Hour as a beginner-oriented improvised Q&A lectures on Nix!
Big portions of the manuals converted to Markdown
First steps taken towards exploiting language level build caching and incremental builds to get build cycle times even further down.
2023
If calendar years were reproducible, it would get boring quickly. 2023 is just getting started and there's a lot in store for us! Nix is officially celebrating 20 years in March with various efforts going around that will be announced over the coming weeks. The NixOS Foundation is launching a grant/funding program to support various Nix meetups/sprints/efforts and will be working on bringing more support into our general community. We are spreading Nix to the world, with tables/booths and devrooms across leading Open Source events worldwide (link SOOCON / FOSDEM / SCALE) and as you can clearly see if you've reached this portion of the post… lots and lots more coming in from every part of the NixOS community daily.
I wish us all a year filled with health, happiness and Nix!
Thank You.
There's over 5,000 people we need to thank for keeping the Nix heart beating for us day in and day out. Thank you to everyone of you that have contributed time and effort Contributors to NixOS/nixpkgs (github.com)
Thank you to everyone that helped put this together! (Tagging some of the folks in comments as you have a tag limit inside a post apparently)