Hello, NixOS community,
Category checklist info
What is the expected outcome
Ability to log into Google accounts through the gnome online accounts menu.
What output did you get
An empty screen (see summary).
Meta Information
OS
OS: NixOS 21.11 (Porcupine) x86_64 
Host: MS-7C90 1.0 
Kernel: 5.10.113 
Uptime: 1 hour, 26 mins 
Packages: 1345 (nix-system), 11 (flatpak) 
Shell: bash 5.1.8 
Resolution: 1920x1080, 2560x1440, 1440x2560 
DE: GNOME 41.1 
WM: Mutter 
WM Theme: Adwaita 
Theme: Adwaita-dark [GTK2/3] 
Icons: Adwaita [GTK2/3] 
Terminal: .gnome-terminal 
CPU: AMD Ryzen 9 3900X (24) @ 3.800GHz 
GPU: AMD ATI Radeon PRO WX 3200 
Memory: 13104MiB / 64308MiB

Config (see summary)
Summary
I'm new to NixOS after a drive failure and needed to have a quickly repeatable system moving forward.
I've hit a problem with the default gnome for 21.11 which will not allow me to log in to google accounts. I have attached some debug output below. and a screenshot.
gnome-control-center -v online-accounts 
12:05:39.0860                      GLib:    DEBUG: setenv()/putenv() are not thread-safe and should not be used after threads are created
12:05:39.0864                    (null):    DEBUG: No extra argument
12:05:39.0866      diagnostics-cc-panel:    DEBUG: ABRT vanished
(process:53177): GLib-GIO-DEBUG: 12:05:41.461: Failed to initialize portal (GNetworkMonitorPortal) for gio-network-monitor: Not using portals
(process:53177): GLib-GIO-DEBUG: 12:05:41.463: _g_io_module_get_default: Found default implementation networkmanager (GNetworkMonitorNM) for ?gio-network-monitor?
bwrap: Can't mkdir parents for /run/current-system/sw/share/fonts: No such file or directory
(process:53177): GLib-GIO-DEBUG: 12:05:41.466: _g_io_module_get_default: Found default implementation gvfs (GDaemonVfs) for ?gio-vfs?
(process:53177): GLib-GIO-DEBUG: 12:05:41.466: Failed to initialize portal (GPowerProfileMonitorPortal) for gio-power-profile-monitor: Not using portals
(process:53177): GLib-GIO-DEBUG: 12:05:41.466: _g_io_module_get_default: Found default implementation dbus (GPowerProfileMonitorDBus) for ?gio-power-profile-monitor?
(gnome-control-center:53127): dconf-DEBUG: 12:05:46.194: unwatch_fast: "/org/gnome/control-center/" (active: 1, establishing: 0)
(gnome-control-center:53127): dconf-DEBUG: 12:05:46.194: sync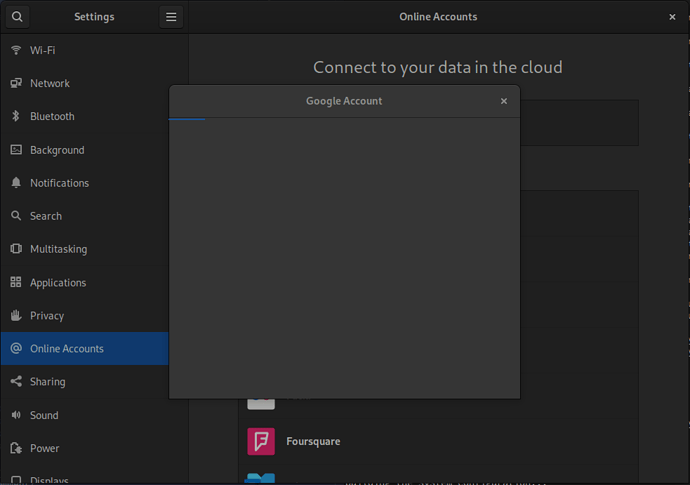 I haven't done anything special to gnome just the following config in my configuration.nix
{ config, pkgs, ... }:
let
  unstableTarball = fetchTarball "https://github.com/NixOS/nixpkgs/archive/nixos-unstable.tar.gz";
in
{
  imports =
    [
      # Include the results of the hardware scan.
      ./hardware-configuration.nix
    ];
  # ... other cfg ...
  # Enable the X11 windowing system.
  services.xserver.enable = true;
  # Enable the GNOME Desktop Environment.
  services.xserver.displayManager.gdm.enable = true;
  services.xserver.desktopManager.gnome.enable = true;
  # ...
  # List packages installed in system profile. To search, run:
  # $ nix search wget
  environment.systemPackages = with pkgs;
    [
     # ... other pkgs ...
      gnome.gnome-tweaks
      gnome3.gnome-settings-daemon
      gnomeExtensions.appindicator
      gnomeExtensions.sound-output-device-chooser
      gnomeExtensions.clipboard-indicator
    ];
  # ... other cfg ...
  services.flatpak.enable = true;
}

Other links for reference: